Trillian
The Ultimate Instant Messenger for the World.
Created in year 2000, Trillian was a very popular instant messenger during the decade. Despite built by a lean startup, it managed to beat all corporate competitions in the download charts.
As the chief designer for 6 years, I helped devise the cross-platform strategy leading the platform to the cloud, and created an extraordinary variety of visual designs in "skins", icons, and more.
Challenges
Users had to load multiple pieces of software simply to chat with friends, which takes up lots of computer system resources.
Different chat clients had different notifications and UIs, creating visual noise in an already limited screen real estate.
Solutions
Design a simple user interface that integrates numerous chat networks.
Create a seamless continuous user experience across multiple operating systems.
Nah. We just wanted something that looked cool because we were in the future then.
Users
Power users who uses multiple chat clients
People with an international network of contacts
Results
Reached #1 on iOS App Store, Google Play Store, BlackBerry App Store, and more.
Launched the first ever 3rd-party app designed for iOS.
Lots of press. Can be seen in a movie, an Apple keynote, and posters in the Apple Store.
Skins & Icons
Skeunomorphism at its finest.
"Skins" were a unique feature in the 2000s that allowed users to customize their user interfaces. It created a fertile ground of experimentation and practice for early UI designers.
Most "skinners" were practitioners of skeunomorphism - they created UIs that ressembled existing objects in real life. However, coming from a background in architecture, I prioritized function over form, where usability comes first.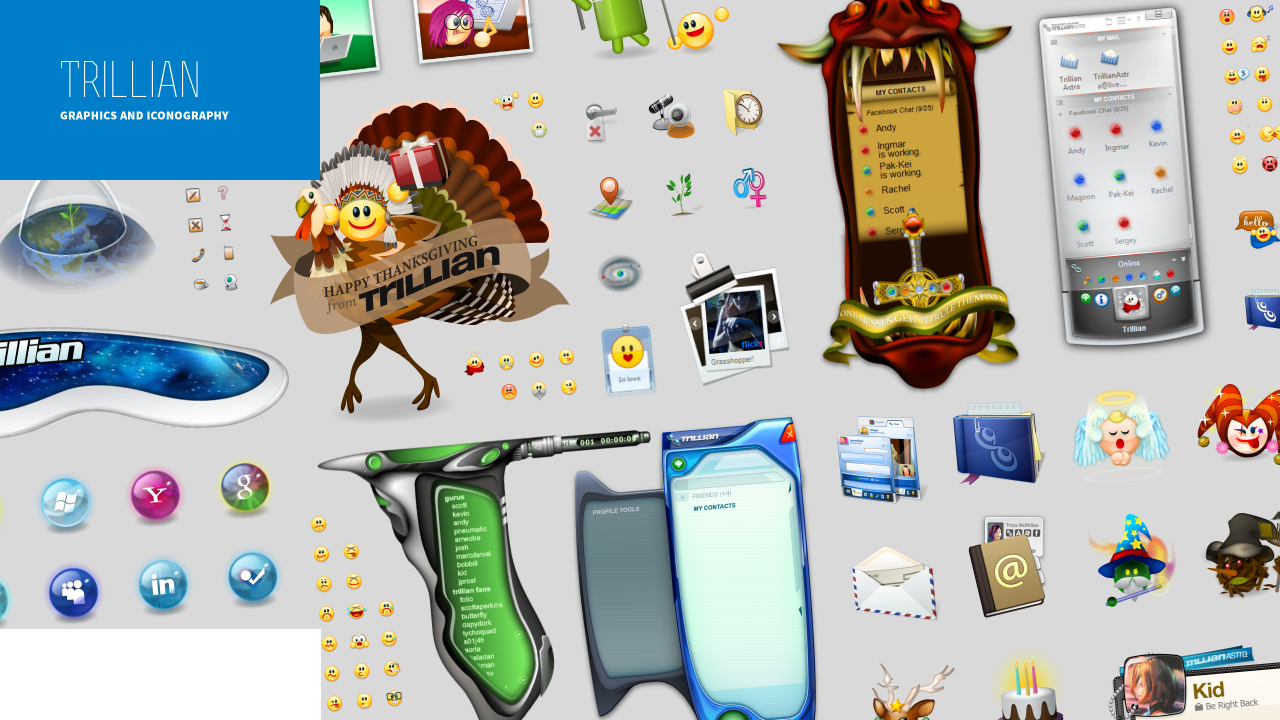 Skills Applied
Data Visualizations
Team Management
Team
Scott Werndorfer
Co-founder and Lead Developer
Kevin Kurtz
Co-founder and Lead Developer
Andy Magoon
Developer
Rachel Blackman
Developer
Ingmur Runge
Developer
Jason Prost
Sound Design
Me
Lead Designer
Press & Accolades
"This app can change your life."
CBS News
"This app can change your life."
CBS News
"This app can change your life."
CBS News