StartupBus
Democratizing the Tech Playing Field.
StartupBus is the legendary tech entrepreneurship boot camp and competition that fosters the next generation of leaders in tech and levels the tech playing field across America... all on a bus within 72 hours.
As the senior national director, I lead my team of dozens of organizers across the continent, rebranded the organization with a focus on diversity and inclusion, and modernized the entire web platform.
Challenges
Entrepreneurship in the tech industry lacks representation from under-served communities. How can we encourage them to dream?
Our organization saw declining numbers at the time. How can we turn this bus around?
Solutions
Bring transparency through data analytics and visualizations.
Bring attention to bad spending and guide towards optimal spending.
Users
Young Entrepreneurs
Sponsors and Partners
StartupBus Alumni
Results
40%+ of Women and TGNC participants, and 60%+ People of Color participants.
Lots of press and documentary made. Featured on Gimlet Media, NBC News, Diversity in Action magazine, and more.
Raised a quarter million US Dollars in sponsorship.
Net Promoter Score of XX.
Leadership
In preparation for this director position, I had interviewed with every previous national directors of the organization to understand fully my job duty. I asked the alumni community for feedback on how to improve our organization. I studied how other similar organizations were run, and researched on the latest trends on entrepreneurship.
I consolidated all the feedbacks, advices, and experiences into one extensive guidebook for our chapter organizers (aka "conductors") and future directors.
Customer Decision Journey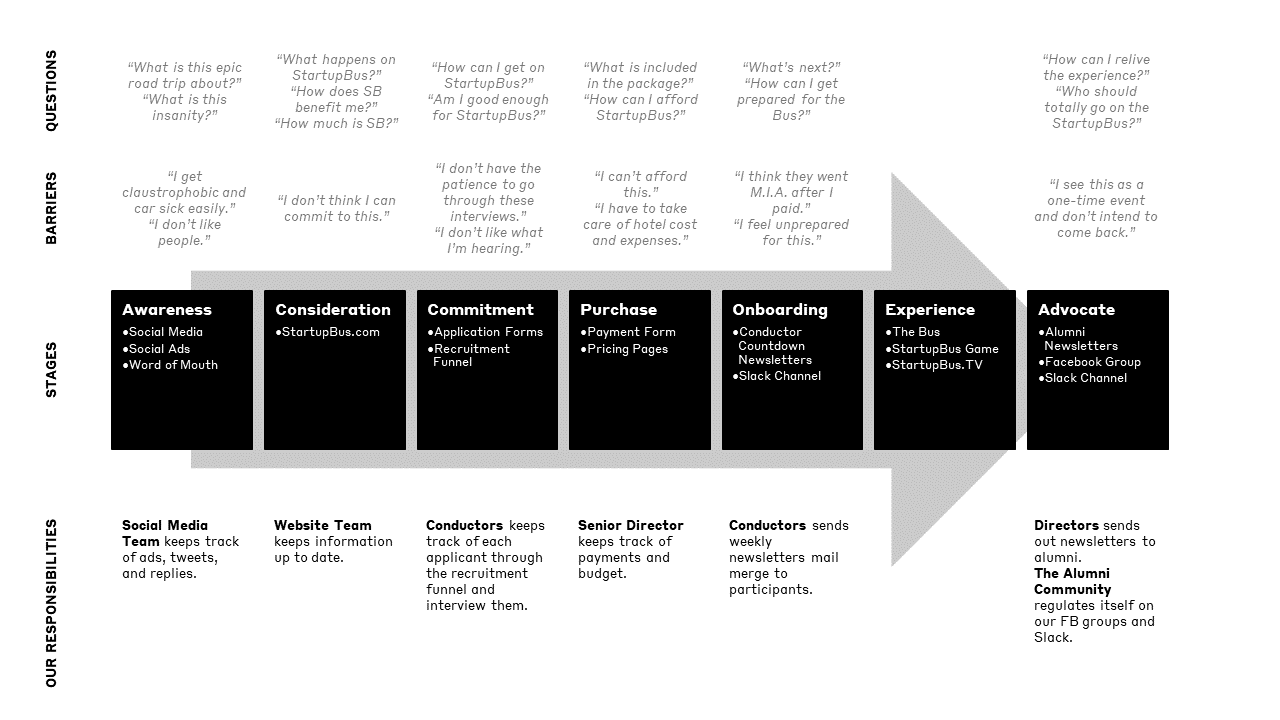 Skills Applied
Team Recruitment
Remote Team Management
Startup Mentoring
Company Mission
Branding Design
Web Design
Team
Elias Bizannes
Founder
Colleen Wong
National Director (2019)
Mitch Neff
Executive Director
Me
Senior National Director
Press & Accolades
"This app can change your life."
CBS News
"This app can change your life."
CBS News
"This app can change your life."
CBS News